The Challenge
When the rains are good in West Africa, cotton crops thrive. In those years, cotton farmers reap the rewards of this higher-risk cash crop and the local cotton company has more to sell. When drought strikes and cotton crops fail, farmers might have to sell off everything they own to pay back input loans. The alternative is to quit cotton entirely, a loss both for them and the local economy.
The Innovation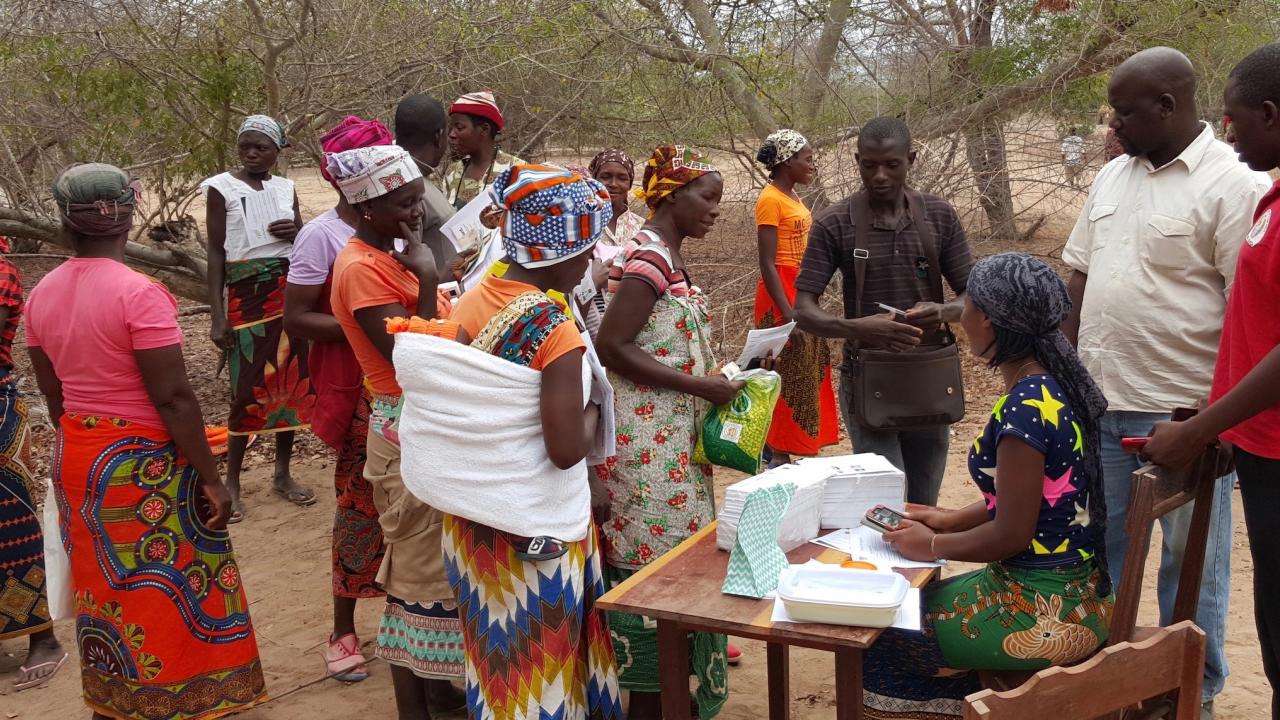 The Resilience+ Model
Small-scale farmers in Sub-Saharan Africa and South Asia face an increasing risk of extreme weather like drought or flood that in any year can destroy their livelihoods. Facing these risks, farmers hold back from investing their scarce resources into improved practices or crop varieties because they can't risk losing everything. 
At the same time, when financial or agronomic tools reduce losses or provide support when times are bad, farmers make those investments, and they reap the rewards at harvest. These two together—resilience to shocks and investments that drive higher productivity—are the foundation of Resilience+. 
From 2013 to 2015, a field study led from UC Davis and funded by USAID tested whether cotton farmers in Burkina Faso and Mali would increase their cotton investments when protected by agricultural index insurance. The team worked with private-sector partners to develop and deliver the insurance to local farmer groups.
Agricultural index insurance is a type of insurance that bases payouts on a remotely measured index of factors that predict an individual farmer's losses, such as rainfall, vegetation growth, or an estimate of total yields in the area. The index insurance contract for this project was designed to provide payouts at multiple scales depending on the severity of predicted losses.
The study was designed as a randomized controlled trial (RCT), which divided similar participants into groups that received the programming and a control group that did not. With this design, any differences in impacts among groups that received the programming and control-group participants can be attributed to the programming itself.
Resilience+
In Mali a coup d'état forced the project to halt in 2012, but the pilot in Burkina Faso continued through the 2014-2015 cotton season. In Burkina Faso, a drought in the 2014-2015 season caused significant losses. While the insurance payouts arrived late, farmers reported that the money made a big difference. Many used those funds to plant sesame, a quick-yielding cash crop.
While the timing of insurance sales in Burkina Faso limited its impact to increases in sesame cultivation and livestock, in Mali the direct impact on cotton investments was substantial. Before the pilot was halted, farmer groups in Mali who purchased insurance increased their cotton planting by between 25-40 percent. The resulting increase in cotton planted would at harvest increase average income by about US $300. This yields a cost/benefit ratio of 6.25.
This project provides evidence of the potential for Resilience+, as well as its limitations. The insurance had limited impacts in Burkina Faso because of challenges providing timely payouts for losses. However, farmers used those payouts to generate an additional income. In Mali, the significant increases in cotton planting suggest that the awareness that the insurance reduced their risk of losses unlocked farmers' willingness to plant more cotton for the chance at a higher income at harvest.